The Music Of Greg Dember
I am a singer-songwriter, piano player and other-instrument player, living in Seattle and Vashon Island, WA. My music bounces around amidst the genres of indie-pop, indie-folk, nerd-rock, and esoteric/eclectic. Sometimes when people ask me to declare a category for my music I say: Post-Genre Singer-Songwriter. To hear all of my studio-recorded albums, please go directly to the music page.
News
I wrote and recorded this song at home under quarantine, with Matthew Brown adding a slide guitar part via email.
My long-time, long-distance musical collaborator Leon Dewan and I have a band called Flask. Eventually we will put out an album of songs, but here's a teaser, a cover of the Beach Boys classic "In My Room."
Show on Sat. October 12, 2019: Snapdragon on Vashon Island
I got a band together to celebrate the release of my newest CD a few months ago, and, what do ya know? Now I seem to have a regular band! So, we are coming back to Vashon and playing a set mixing together some songs from my old band CHIEFLY, songs from the new record, and a few other Greg Dember songs.
Show on Sat. June 1, 2019: Snapdragon on Vashon Island
We're bringing the North of the Night Street album release show to Vashon Island. I'm thrilled to be breaking in Snapdragon's brand new 'Black Cat Cabaret' stage! Drums: Terri Pearson; Bass: Greg Schlimm; Viola: Anne Marie Ruljancich; Guitar and Glockenspiel: Patrick Reardon; Trumpet: Barry Cooper.

Please join us, and our special guest Erin Rubin, at Snapdragon. 17817 Vashon Hwy SW Vashon, Washington. 7pm!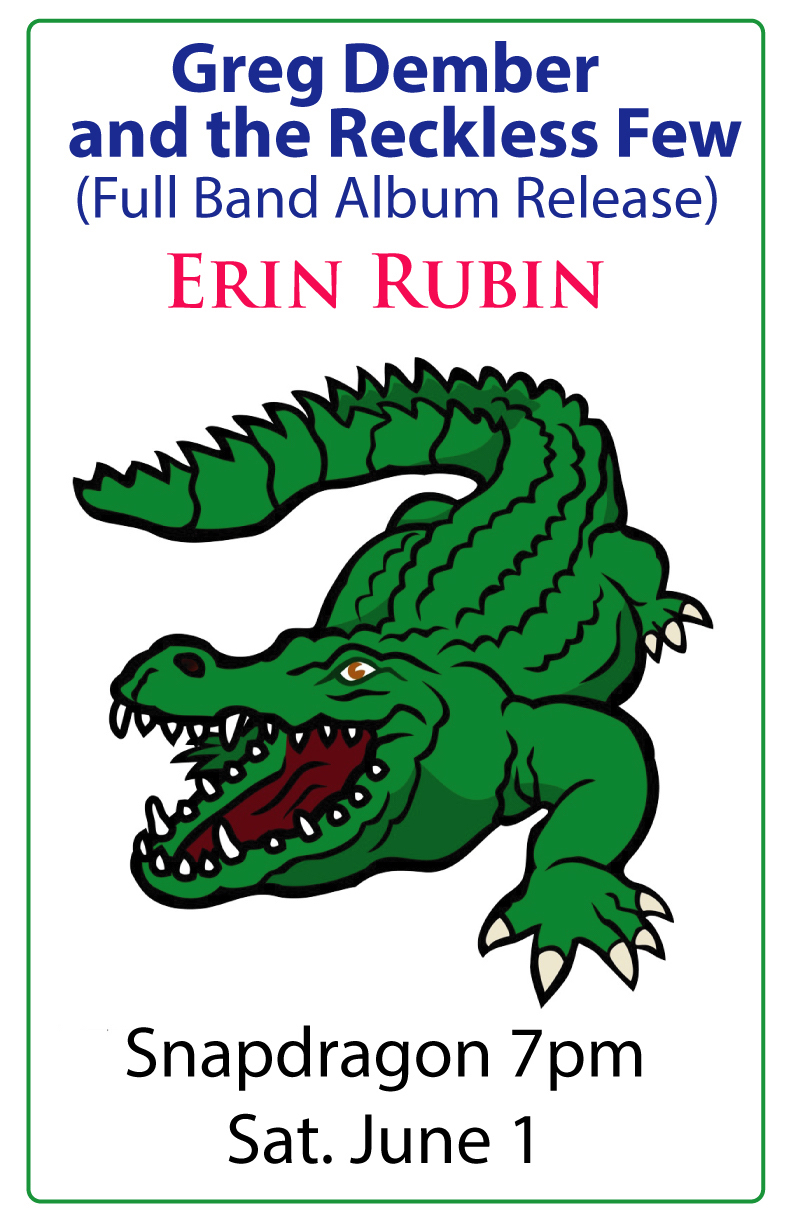 Show on Wed. April 17, 2019: Hotel Albatross
This is a belated CD release show for my new album, North of the Night Steet. We'll be playing all the songs on the record! Drums: Terri Pearson, Bass: Greg Schlimm, Viola: Anne Marie Ruljancich, Guitars: Patrick Reardon, Matt Brown, John Morse. Back-up vocals: Linda Ceriello. Please join us, and our special guest COSTELLO, at Hotel Albatross. 2319 NW Market St, Seattle, WA 98107. 8pm!
August 21, 2018: North of the Night Street!
Introducing my newest album. I spent a couple years on this one, doing most of the engineering aspects (recording and mixing) myself, for the first time. What else to say about it? This group of songs has more of an emphasis on story-telling album than some of of my previous work. It's kind of acousticy, even though many of the songs have drums and electric guitars. The cover is artist Becky Joy Aitkin's rendering of a scene from a dream I told her about. It's one storefront in a little neighborhood in my own dream-version of Seattle that I have visited more than once at night.
June 26, 2018: New Album mastered!
My new 11-song album,
North of the Night Street
has been mastered by Doug Krebs and now my designer, Becky Joy Aitken just have to finish the artwork. Yes, I am putting it out on CD. It's a tough call these days, but I think my demographic is what I call the decent-car demographic. We drive cars that are nice enough to have CD players, but not TOO NEW to have CD players. It'll also be on spotify and other digital platforms. Stay tuned!
Show on July 7, 2018
Two sets of just me playing my songs at Snapdragon, on the lovely back patio if the weather allows.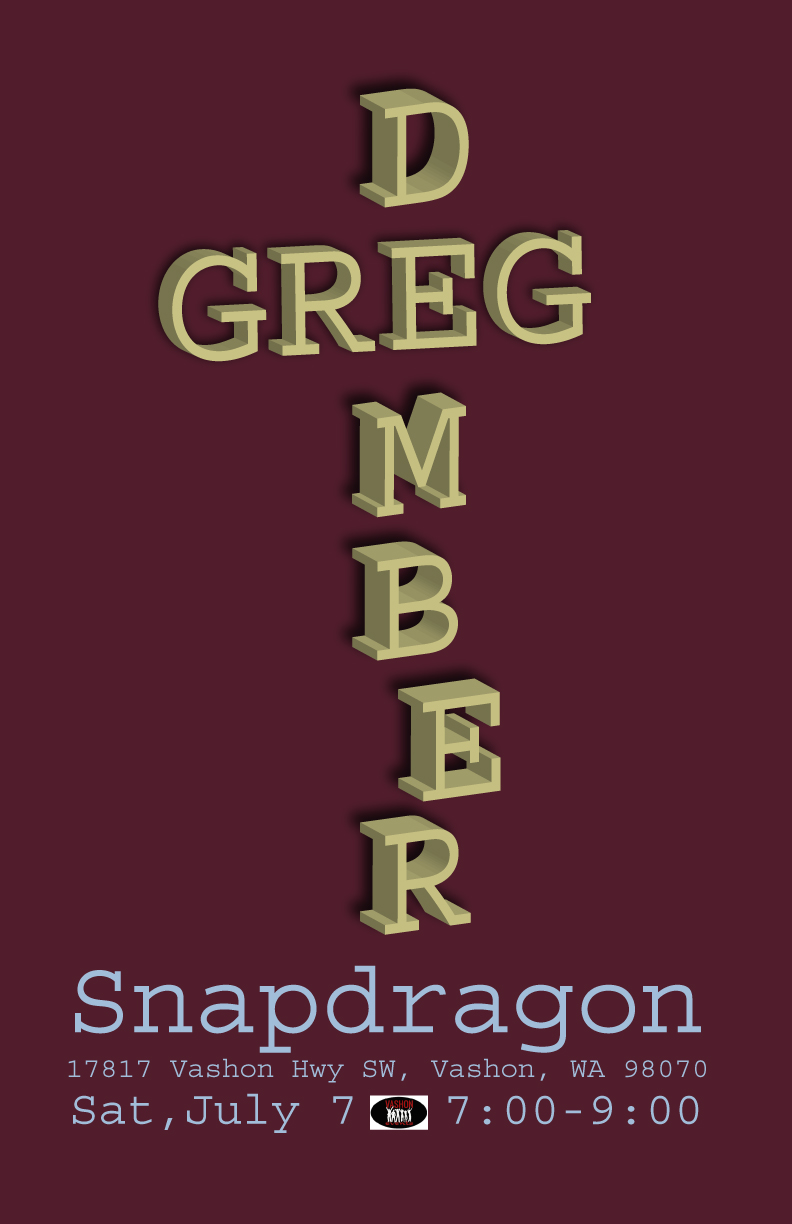 Show on April 13, 2018
SHOOT -- This event has been CANCELLED!
I'l be playing a few songs at this benefit for an organization that helps dogs! Hosted by the hilarious Famous Filson Sisters.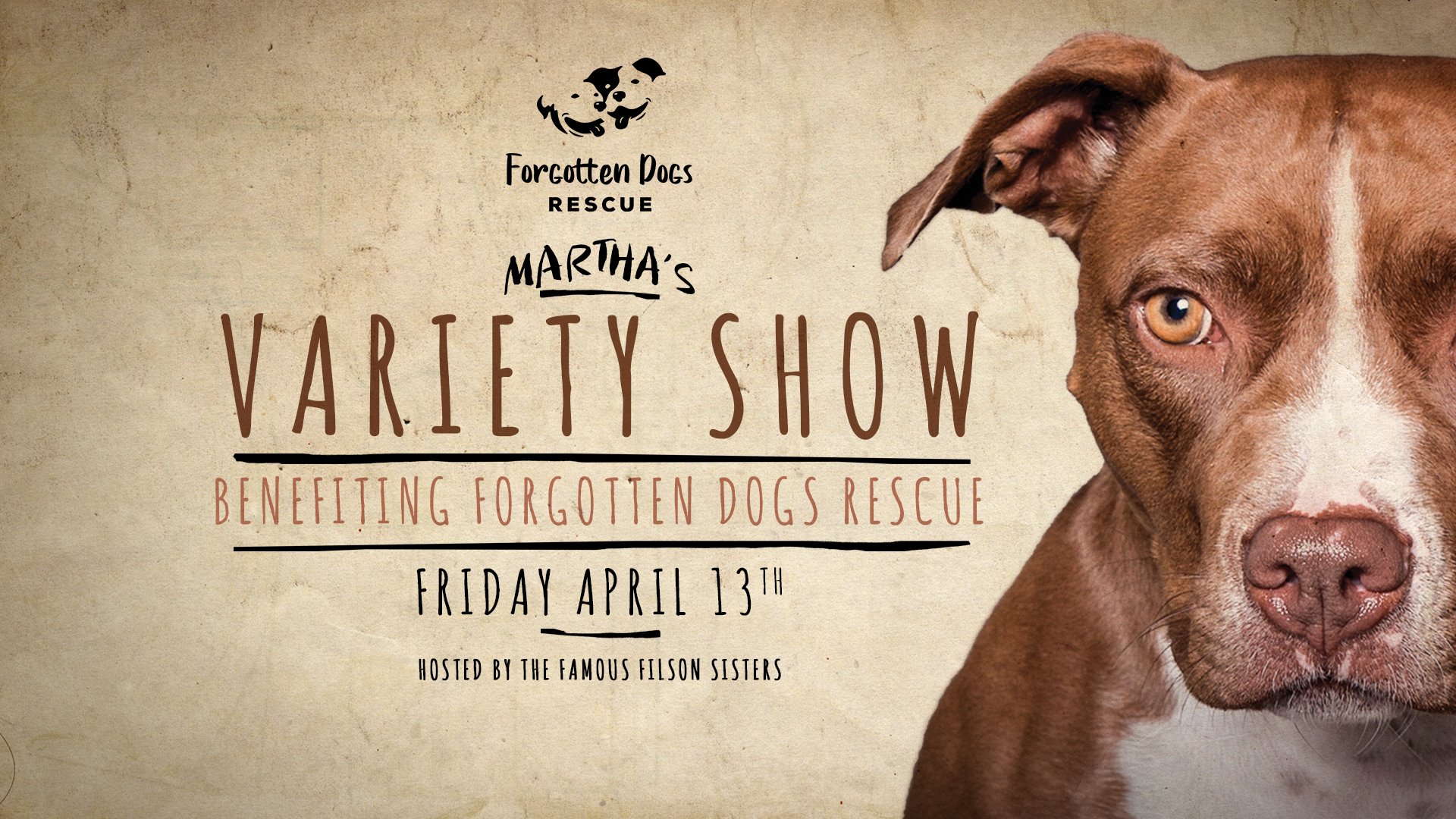 October 25, 2017
I'm getting close to finishing tracking the 13 songs that will be going on my next album. Matthew Brown is scheduled to mix it in late November. In the meantime, check out this "single" called "Dump Truck." It's not going on the album -- it's a one off political protest song!
Credits:
Greg Dember: Lead Vocals, Baritone Ukulele, Bass, Organ
Rusty Willoughy: Drums
Linda Ceriello: Harmony Vocals
Rich Brisbois: Electric Guitar
Dump Truck Shouters: Ron Carnell, Mary Keils, Tami Brockway Joyce, Paco Joyce, Janet Felicity Welt, Leon Dewan, Mark Blackwell
Song copyright Greg Dember 2017
Show on August 12, 2017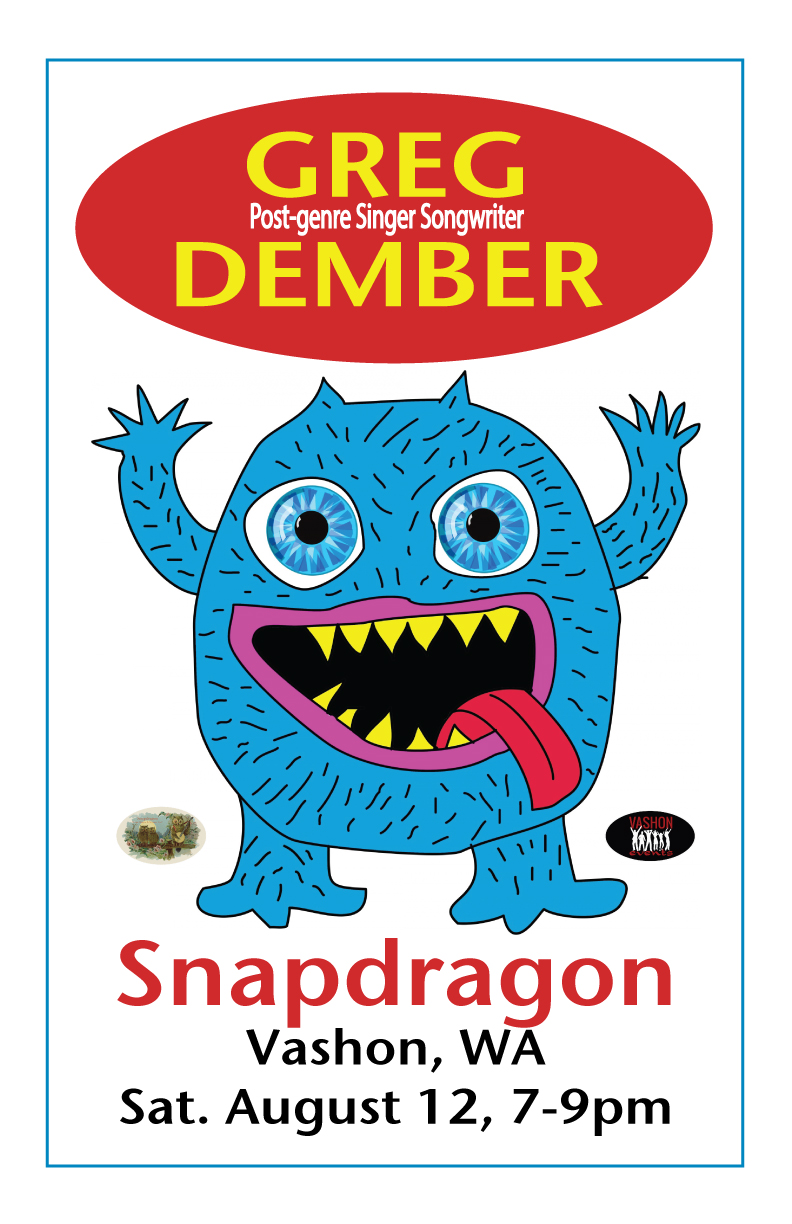 Show on Feb 11, 2017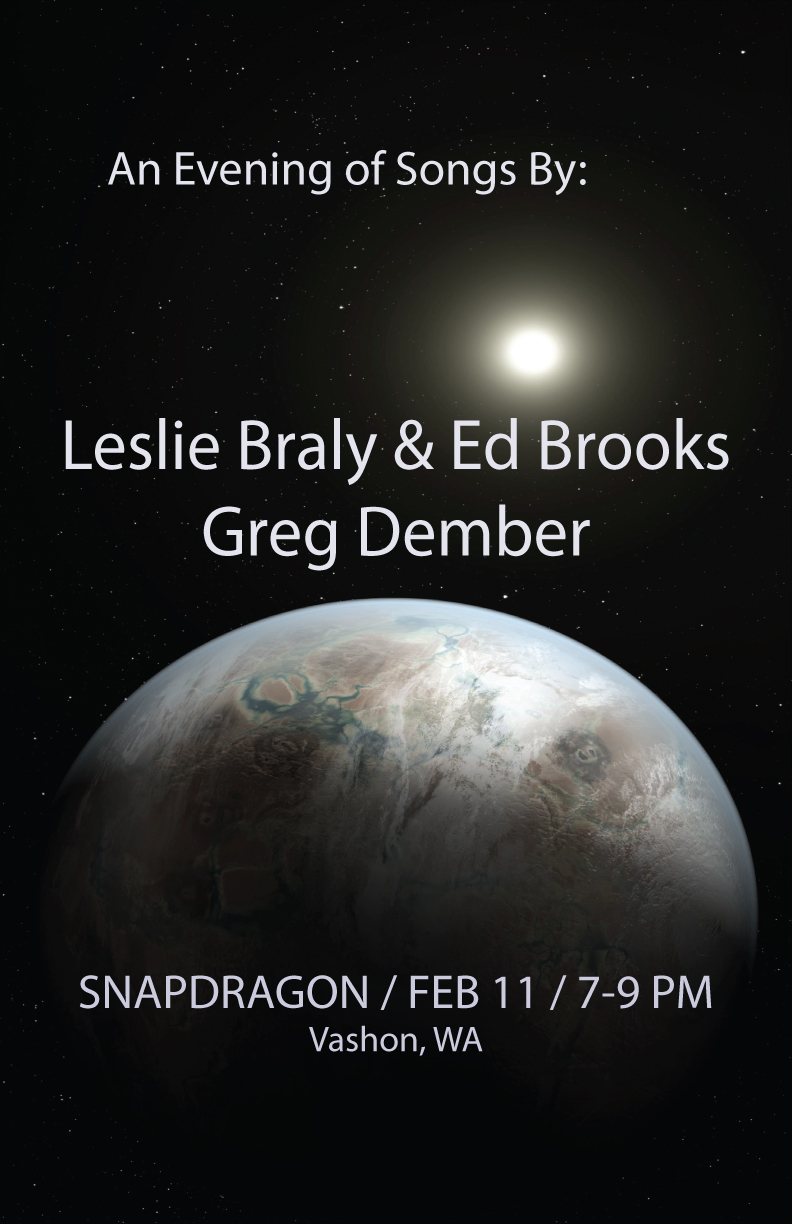 January 17, 2017
I'm getting there with my new album! I'm running all over the place with my laptop and portable studio gear getting different musicians to contribute to various songs. So far the talent includes:
William Cremin
(drums on 3 songs guitar on 1),
Anne Marie Ruljancich
(viola on 2 songs),
Matthew Chaney
(quirky percussion on 1 song), and just the other day,
Ed Brooks
(pedal steel guitar on 1 song). I have six songs so far in various stages of production, and 5 more songs written that I haven't started tracking yet. Exciting!
Show on Aug 27, 2016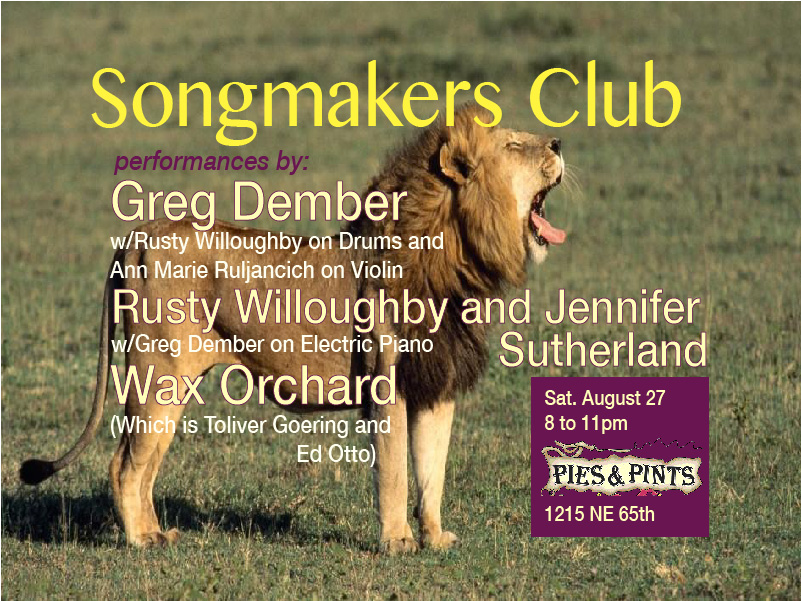 Show on July 2, 2016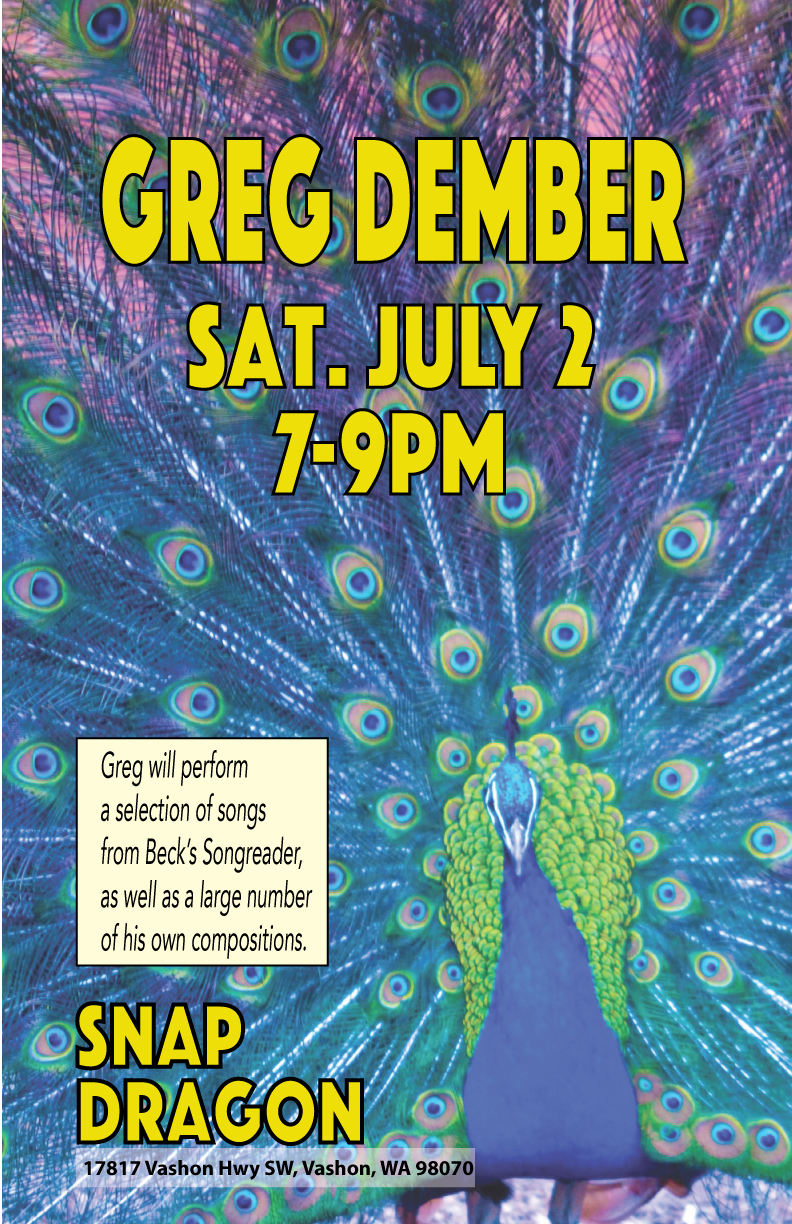 Show on May 14, 2016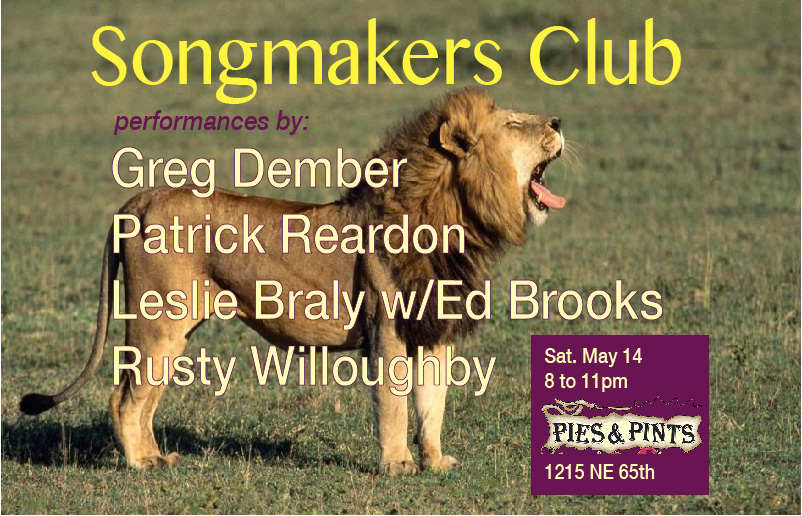 May 4, 2016
Oh wow. I haven't posted any "news" here in more than a year. The truth is that I've been performing little gigs, both as my own singer-songwriter act, and as the piano player in a Carpenters cover band called Rainy Days and Mondays, and in a diva-fronted standards band called Delilah Pearl and the Mantarays. Except I have left the Mantarays, and now I am playing here and there with Rusty Willoughby and Jennifer Sutherland (backing them on their songs) and Rusty has been practicing with me, playing drums on my songs. I haven't posted any of this, because my idea for the "news" section of this site is just to mention recording projects and things like that. But maybe I should post gigs here. So, see the post above this one.
And I do have some recording news. I've begun work on two albums. Another Greg Dember solo album, and a new project with my longtime friend and collaborator, Leon Dewan. We don't have a band name yet, but we got together in April and we have the beginnings of five songs. I also have the beginnings of about that many songs for my solo album. William Cremin has laid down drums tracks for both albums, and I'm sure other talents will be involved as well. Stay tuned!
January 21, 2015
My good friend Matt Lawrence shot this video with me for "Old Shanghai" from my Grek Benson EP. We did the whole thing on Vashon Island with friends in all of the roles.
Jennifer Sutherland: Woman In Bar
Greg Dember: Guy In Funny Suit
Mick Etchoe: Ticket Seller
Dianne Krouse: Clarinet Player
Anne Marie Ruljancich: Viola Player
Adult Stuffed Animal Buyers: Rachel Lord Kenaga, Lyle Lord Kenaga, Patrick Reardon, Mary Lawrence, Julia Lynton-Bolte, Bonny Moss, Sean Leonard
Kid Stuffed Animal Buyers: Jacob, Micah, Eloise, Orion, Peregrine
Thank you to May's Kitchen for the bar scenes.
January 11, 2015
This is a really good story; it should be on This American Life or something. OK, so many years ago, 2008-ish, someone named Brit Benjamin introduced herself to me on Myspace, and said she liked my music (which was primarily CHIEFLY at the time), and would like to get a CD but she didn't have any money to spare. I checked out the music SHE had online, liked what was there, and proposed that we trade discs. Brit did not have a pressed CD so she burned me my own little comp of her best songs. I was totally smitten by this CD for about 3 months, made everyone who rode in my car listen to it, etc, then it kind of fell under a pile of things and I sort of forgot.
Flash forward to early 2014. I was doing some clutter clearing and rediscovered Brit's disk, popped it on, and was blown away again. Since many years had passed, I was curious what else she may have done since then, so I googled Brit. I learned from her Bandcamp page that SHE HAD LOST most of the songs I had on this disc! So I eventually made contact with her on Soundcloud and Facebook, sent her the missing songs, and rekindled our musical friendship. Then we began collaborating!
That Spring, Brit sang co-lead vocals with me on "You Don't Have to Change Your Shoes" (see Grek Benson, below), and then over Christmas week 2014, we did this duet of "Tonight You Belong to Me." Keep in mind, that all of this has been done long-distance, over email, and we have never met in person, nor even spoken on phone or skype!
August 11, 2014
The discs have arrived! The discs for my Beck Song Reader project, that is. (See the news item below for an explanation of the project.) As planned, it's an "EP" of five songs, and, perhaps self-indulgently I named it Grek Benson which is a play on my middle name and Beck's last name. Now that my project is finished, I've been listening to the renditions of the same songs created by other musicians. We all sound good.
May 29, 2014
For the last six months or so I've been working on recorded versions of a handful of songs from Beck Hansen's Beck Song Reader. If you haven't heard about this, these are songs that Beck composed but did not release as recordings, but rather simply as sheet music. I'm focusing on five of them, so I guess this project is what would traditionally be called an "EP." If you know Beck's music you know that he has been stylistically all over the map. These tend to have an old-timey, almost late-nineteenth century flavor to them. My renditions range from that vibe to a contemporary experimental sound. The five songs are:
"Old Shanghai"
"Sorry"
"You Don't Have to Change Your Shoes to Walk All Over Me"
"The Title of this Song"
"Please Leave a Light On When You Go"
Again, it's Matt Brown engineering and playing bass and some electric guitar, plus a bunch of other musician friends helping out on various instruments. (I'll name them all when the project is ready for release.)
This should be available sometime this Summer. Not sure yet if it will be on CD, download only, youtube videos, or what.
November 29, 2013
I am honored to have part of my song "Walk Softly" (from my album Ten Thousand Things) used at the end of the fund-raising Kickstarter for a documentary called The Tightrope. This is my friend Dan Filbin's project, and it explores mental illness, including perspectives of people who have experienced it, and also the knowledge of experts in fields ranging from psychiatry, to religion, to the arts.
June 30, 2013
Last night we had a very successful house concert performance of 13 songs from The Beck Song Reader! The Beck Song Reader is a group of songs that Beck published only in printed form, as sheet music, without having ever produced recorded versions of the songs. Although there have been plenty of youtube videos of other musicians interpretations of this music, I have fiercely avoided hearing any of it, so that I could have the pure experience of learning the music directly from the page. Below is a video of me playing my interpretation of "Old Shanghai." No microphones! Parlor concert style!
October 12, 2012
Had a wonderful time playing in the John Prine tribute at Seattle's Sunset Tavern the other night. All of the performers were great, the audience was plentiful and enthusiastic, and special thanks to Norman Baker and The Backroads for organizing and playing house band.
August 30, 2012
And... now... here is Ten Thousand Things! This started as a one-song recording project. I had one older song called "Love and Sadness" that a friend liked a lot. Next thing I knew, I was making a five-song EP. And then it became a full ten-songer. They are all older songs from my more folky days, that had never had serious studio recordings made. Except "Acid Tongue" which is a Jenny Lewis cover.
August 20, 2012
The new version of Water Makes Waves is now available!
You can buy physical CDs or download at a flexible price, $7 or more, or just listen.
August 16, 2012
An animated video for the new version of "How We Met." The full album Water Makes Waves will be available soon.
February 10, 2012
I am currently at work recording a new album of old songs. These are all songs I wrote in the nineties and early 2000s, and they are pretty much in the "Folk/Americana" genre. At the time I wrote them, I didn't quite know how to fit them in to everything else I was doing musically, but now I feel that I am ready to share them with the world! The album is tentatively titled Ten Thousand Things. Oh, actually I'm lying that the songs are all old, because there will probably be one cover, and it will probably be of a fairly recent Jenny Lewis song.
Also: This may be weird but I have pulled down my 2011 release Water Makes Waves because I am re-mixing it with plans to re-release it later this year! I want to make it PERFECT! I'll keep you posted.